LATEST FROM THE GLOUCESTERSHIRE KNEE CLINIC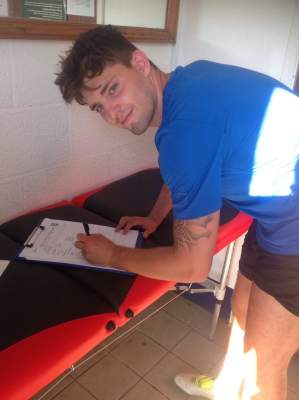 GKC Patient Joins Longlevens To Step Up Come Back From Injury
Slimbridge midfielder Ben Hands has signed for Longlevens on a dual registration as he steps up his return to action following an ACL injury. Hands, who suffered the knee injury during Slimbridge's 1-0 defeat at Moneyfields in November 2018, has missed over a year of action and will join up with the Hellenic Premier side as he looks to get back to action.
"It's very exciting," Hands told us after the deal was confirmed. "It's been a long time coming and I've worked harder than ever to be where I am now.
After the injury was confirmed back at the end of 2018, the whole of Gloucestershire football showed their support for Hands on social media and the former Bishops Cleeve man has thanked everyone for their support – in particularly at the beginning of his recovery.
"Obviously my family were amazing throughout and I'm grateful for how motivating and helpful they have been especially when I first did it. Oh and of course a massive thanks to my surgeon Doctor Peter Kempshall for everything he did with my operation and rehab," Hands told Severn Sport.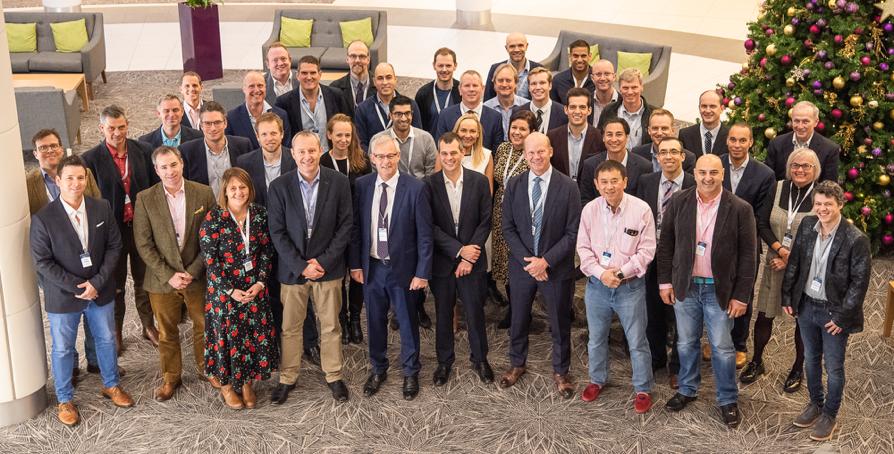 Sports Knee 2019 Conference at St George's Park
This week Peter Kempshall attended the Tim Spalding Fellows alumni at the FA's prestigious St George's Park training facility. This was part of the Sports Knee 2019 conference where sports knee surgeons share and discuss the latest evidence and surgical techniques.
One of the highlights for Mr Kempshall was discussing with Dr Rob Leprade from the USA over coffee the merits of the double bundle PCL reconstruction and the improved functional outcome with this technique. Catching up with colleague Dr Alan Getgood from from the Fowler Kennedy Sports medicine unit, Canada was another highlight. Dr Getgood trained together with Mr Kempshall in Coventry, Uk. He now runs the multi centre stability study of Anterior cruciate ligament reconstruction combined with lateral extra articular tenodesis to reduce rates of re-rupture. Mr Kempshall was able to share his experience having been performing the additional procedure on ACL patients for some time.
Knee replacement in the morning home for dinner!
The partial knee replacement is a resurfacing replacement of just the damaged part of the knee. The undamaged healthy parts are not replaced. Leaving the undamaged sections, improves recovery often to the point where patients actually forget that they've even had a partial knee replacement. "The forgotten knee" is the holy grail in the knee surgery world and happens sixty percent more often in partial knee replacement than in total knee replacement.
Members of the Gloucestershire knee clinic team at the British Association of Surgery of the Knee (BASK) conference in Brighton. Peter Kempshall and Roger Close with Lima-uk looking at the new Physica KR knee replacement.
The BASK conference is the UKs leading meeting for knee surgeons to share ideas and learn about new advances in knee surgery.
A huge thank you to Smith and Nephew for welcoming our team of enthusiastic Orthopaedic Registrars to their state of the art surgical training facility. It was an excellent opportunity for the trainees to perfect their skills in ACL Reconstruction and Arthroscopic Hip Surgery.
The Gloucestershire Hip and Knee Clinic Consultants were on hand to offer tips and tricks to the surgeons of tomorrow and had a fantastic day out supporting their trainees.
"Whilst playing u19 rugby for Gloucester academy I completely ruptured my right ACL with partial medial ligament and meniscal damage. Mr Close performed a full ACL reconstruction on my right knee. 10 years on, I am nearly 30 and have been playing international touch rugby for England for the last 3 years. Thanks to the quality of surgery and care I received from Mr Close and his team I have been able to continue to pursue my sports goals in life."
Mr Gleeson and Mr Barksfield opened their continuing professional development account for 2019 with a trip to work with Prof Argenson at the Hospital Sainte Marguerite in Marseille. This is a University Hospital performing over 1300 joint replacements per year. The French operating theatre set up was fantastically efficient with Prof Argenson running 4 theatres simultaneously allowing us to maximize our learning in a short visit.
The team at GKC are always seeking out opportunities to learn about the latest techniques and innovations in order to improve the outcomes for our patients. We are hugely grateful to Zimmer Biomet for arranging this academic visit allowing us to learn about the brand new Persona total knee replacement system and to also gain invaluable experience with trabecular metal cones.
Today at the Nuffield Health Cheltenham, Orthopaedic surgeons Pete Kempshall and Rob Gleeson (pictured) performed a complex knee ligament reconstruction together as a two consultant procedure. Our ethos at Gloucestershire Knee Clinic uses the team approach by combining surgical expertise to provide the highest quality surgery.
"Your skill and attentive care got me through my knee replacement. My operation took place last Tuesday and a week later I am mobile without pain and feeling terrific. Thank you for everything."
GKC SURGEON MR KEMPSHALL MAKES HISTORY
Last week at the Winfield Hospital, Gloucester – Peter Kempshall from Gloucestershire Knee Clinic – performed the first computer planned patient specific osteotomy in the South West of England using Joint Operations technology #savethejoint
The Gloucestershire Knee and Gloucestershire Hip clinic enjoyed an excellent dinner at the Daffodil restaurant in Cheltenham. Thanks to everyone for all their hard work and dedication to making the clinics the largest private orthopaedic clinic in Gloucestershire!
"As an active sportswoman, it was shattering to learn that my anterior cruciate ligament had snapped… there was really only one option – an ACL replacement requiring a graft from my hamstring.Eight months on, after many gentle practice sessions, I have started to play friendly matches again. Now I feel very positive regarding my chances of returning to international tournaments."