Gloucestershire Orthopaedics brings together the expertise of experienced UK qualified and trained fee-assured orthopaedic surgeons and modern, fully-equipped private hospitals in Cheltenham and Gloucester. By operating in 2 private hospitals and consulting in additional 2 Trust Hospitals we are able to provide a unique first-class private service at a time and place that is convenient for you.
"My operation was a complete success and after only 10 days I was walking with the help of only a light stick. The doctors and nurses at my local surgery were astounded at my progress, as were my friends."
"Your skill and attentive care got me through my knee replacement.  My operation took place last Tuesday and a week later I am mobile without pain and feeling terrific. Thank you for everything."
"As an active sportswoman, it was shattering to learn that my anterior cruciate ligament had snapped… there was really only one option – an ACL replacement requiring a graft from my hamstring.Eight months on, after many gentle practice sessions, I have started to play friendly matches again. Now I feel very positive regarding my chances of returning to international tournaments."
"I came out of my first consultation with Mr Gleeson having been given a brilliant explanation of my knee condition… Three months after my Oxford partial knee I have full function in the knee restored, I'm walking pain-free and looking forward to my first round of golf in 4 years!"
"Whilst playing u19 rugby for Gloucester academy I completely ruptured my right ACL with partial medial ligament and meniscal damage. Mr Close performed a full ACL reconstruction on my right knee. 10 years on, I am nearly 30 and have been playing international touch rugby for England for the last 3 years. Thanks to the quality of surgery and care I received from Mr Close and his team I have been able to continue to pursue my sports goals in life."
MR ROBERT GLEESON BSc MBBS FRCS (Tr & Orth)
Mr Gleeson grew up and was educated in Jersey, Channel Islands. He trained at University College London Medical School gaining a BSc in Anatomy in 1991 and qualified as a doctor in 1994.
As a junior orthopaedic surgeon he […]
MR PETER KEMPSHALL MB BCh, FRCS (Orth), Dip. Sports Medicine
Mr Kempshall competed his medical degree and early surgical training in South Wales. He gained his Diploma in Sports Medicine in 2008 and regularly treats sports injuries.
He has performed many research […]
MR RICHARD BARKSFIELD MBBS BSc FRCS (Orth)
Mr Barksfield is a Consultant Orthopaedic Surgeon with a specialist interest in Hip and Knee Surgery.
He completed his Medical Training at Imperial College London in 2006. During this time, he also undertook a Clinical […]
MR JAMES PEGRUM MB BS BSC MSC (SEM) MRCS MTN DIP FRCS (TO)
Mr Pegrum is a Consultant Orthopaedic Surgeon with a specialist interest in Hip and Knee Surgery.
As a trainee in the Oxford deanery, he trained under nationally respected hip and knee specialists including […]
MR ROGER CLOSE MB ChB FCS (SA) Orth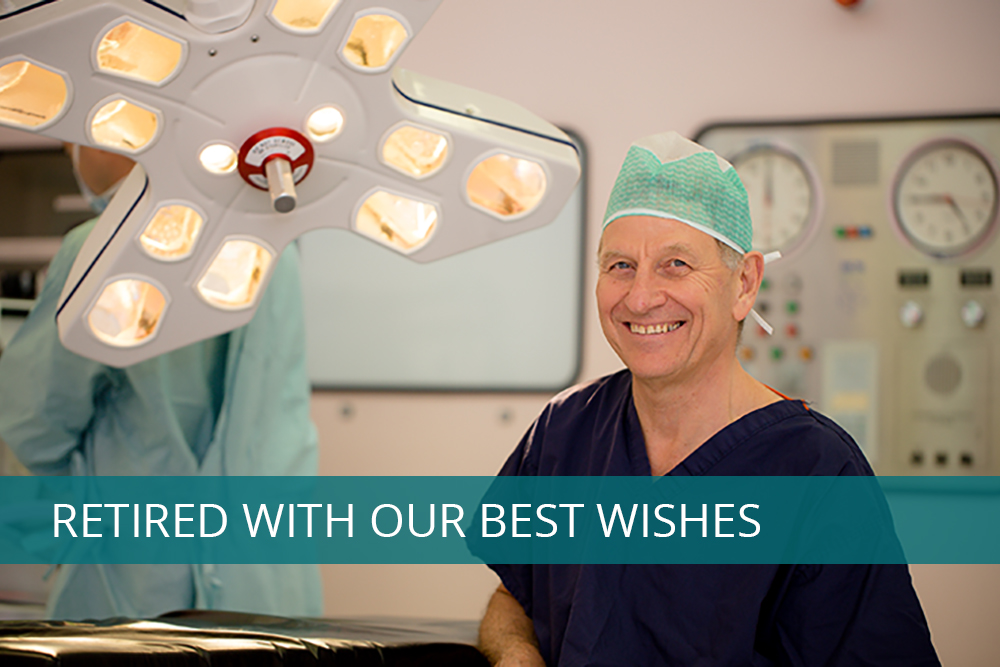 Our founding member Mr Roger Close has a special interest in knee replacement surgery for arthritis of the knee, knee ligament reconstruction and arthroscopy.
He attended the University of Cape Town, graduating in 1978. After completing his training in 1989 he did a Fellowship in Hip and Knee Replacement Surgery.
"My operation was a complete success and after only 10 days I was walking with the help of only a light stick. The doctors and nurses at my local surgery were astounded at my progress, as were my friends."
"Your skill and attentive care got me through my knee replacement.  My operation took place last Tuesday and a week later I am mobile without pain and feeling terrific. Thank you for everything."
"As an active sportswoman, it was shattering to learn that my anterior cruciate ligament had snapped… there was really only one option – an ACL replacement requiring a graft from my hamstring.Eight months on, after many gentle practice sessions, I have started to play friendly matches again. Now I feel very positive regarding my chances of returning to international tournaments."
"I came out of my first consultation with Mr Gleeson having been given a brilliant explanation of my knee condition… Three months after my Oxford partial knee I have full function in the knee restored, I'm walking pain-free and looking forward to my first round of golf in 4 years!"
"Whilst playing u19 rugby for Gloucester academy I completely ruptured my right ACL with partial medial ligament and meniscal damage. Mr Close performed a full ACL reconstruction on my right knee. 10 years on, I am nearly 30 and have been playing international touch rugby for England for the last 3 years. Thanks to the quality of surgery and care I received from Mr Close and his team I have been able to continue to pursue my sports goals in life."